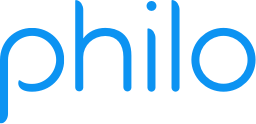 Philo CCPA Notice at Collection – Employees, Applicants, Officers, Directors, and Contractors
Effective Date: June 6, 2020
If you are a California resident who is a job applicant to, employee of, director of, officer of, or individual contractor of Philo (collectively "you"), we are providing you with this CCPA Notice at Collection – Employees, Applicants, Officers, Directors, and Contractors ("Notice") to inform you about (1) the categories of Personal Information that we may collect about you, and (2) the purposes for which we may use that Personal Information. "Personal Information" has the definition in the California Consumer Privacy Act of 2018 ("CCPA").
Categories of Personal Information We Collect

Depending on the circumstances, we may collect the following categories of Personal Information that are identified in the CCPA:
Identifiers such as your real name, alias or nickname, postal address, unique personal identifier, online identifier, internet protocol address, email address, social security number, driver's license number, passport number, and any other identifiers required by law. We may also need to collect the name, postal address, and email address of your emergency contacts, dependents, and beneficiaries.
Categories of Personal Information listed in the California Customer Records law, such as the identifiers above, your telephone number, employment history, education, bank account number, other financial information, medical information, and health insurance information. We may also need to collect the telephone number of your emergency contacts, dependents, and beneficiaries.
Characteristics about you that may be required by law or voluntarily provided by you, such as your date of birth, race, national origin, disability, medical condition, sex (including your gender, gender identity, gender expression, and pregnancy or childbirth and related medical conditions), marital status, citizenship status, veteran or military status, requests for parental, pregnancy, disability or sick leave, background check information (such as criminal records, historical addresses, education history, and employment history) and other characteristics.
Biometric information, such as voice recordings, video recordings, and photos of you. This may also include other physiological, biological, or behavioral characteristics about you.
Internet or other electronic network activity information, including, but not limited to, your browsing history, search history, and email content, and information regarding your interaction with internet websites, applications, or advertisements on company issued devices or accounts.
Geolocation Data, such as tracking your access to company facilities.
Audio, electronic, visual, or similar information about you.
Professional or employment-related information, including your job application, resume, education history, employment contracts, contractor agreements, performance reviews, expense reports, payroll and benefits data, internal and external contact information, memberships in professional organizations, professional certifications, employment history, and information about you obtained from video, audio, systems, or other forms of monitoring or surveillance.
Education information that is not publicly available, including your grade point averages, transcripts, and any other educational information you provide us.
Inferences drawn from any of the information we collect that may reflect your preferences, characteristics, psychological trends, predispositions, behavior, attitudes, intelligence, abilities, or aptitudes.
How We Use Your Personal Information
Depending on the circumstances, we may use your Personal Information for business purposes that include:
recruiting
background screening and checks
making employment and staffing decisions
confirming your eligibility for employment under applicable law
assisting with immigration matters on your behalf
administering benefits and insurance
managing payroll and other forms of compensation
managing, awarding, and distributing equity
paying or reimbursing expenses
conducting performance reviews and managing career planning
providing human resources management services, including providing employee data maintenance and support services, administration of separation of employment, approvals and authorization procedures, administration and handling of employee claims, and travel administration
maintaining your contact information
assessing training needs and conducting training
improving our culture and working environment, including conducting staff surveys and providing senior management with information about other employees
assisting you in an emergency, including maintaining contact details for you and your dependents or emergency contacts
handling any disputes related to your employment
managing the work environment, which includes information collected relating to disciplinary actions, and code of ethics conduct processes and investigations
conducting our business, including recording audio and audiovisual recordings of meetings and calls
managing security on our systems and infrastructure and conducting investigations, which includes managing our software and hardware computer assets; systems testing, such as development of new systems and end-user testing of computer systems; training; monitoring email, internet access and usage of company issued devices and accounts; and monitoring and managing physical access to company facilities
obtaining financing, recapitalizing the company, or the purchase or sale of all or part of a business
complying with applicable law or regulatory requirements, such as legal (local, state, and federal) and internal company reporting obligations, including required reporting for tax obligations, immigration, contractor payments, wages, headcount, management information, and demographics
Changes to this Notice
We reserve the right to modify this Notice at our discretion and at any time. When we make changes, we will notify you through an email notice and reflect the date the Notice was updated.
Contact Information
If you have a question related to this Notice, please contact us at:
or at:
Philo, Inc.
225 Green Street
San Francisco, CA 94111
or at:
855-CSPHILO (855-277-4456)
This Notice was last modified on the date indicated above and is effective on such date.